Teach

Your children well.


CSNY - "Teach Your Children"


Today Kate and I made a trip to civilization (AKA Salisbury, MD) to do some Christmas shopping and spotted something a little like this in the parking lot: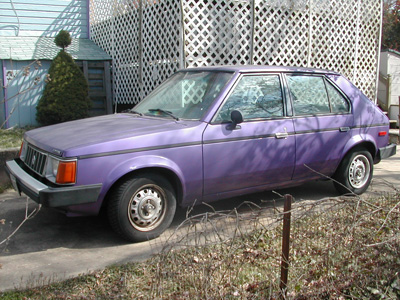 Katie P. yelled in amazement, "Look at 'dat car!"


There was a brief pause, during which I anticipated a follow-up exclamation like "it's so pretty!" or "why, oh why can't we have 'dat?". Instead she shouted a vehement and emphatic...


"TACKY."


Then she warbled a little Katie song "TACKY, TACKY, TACK, TACK. TACKY TACKY TACKY TACK" as she skipped into the store.




As Clairee says in Steel Magnolias; "Your Momma raised you right!".


Yeah, I'm crunchy-granola, liberal and all that, but I have taste, too.




Later, exhausted by her brush with tastelessness, Kate napped in her brand new hat. We bought it today and she refused to remove it. It came in handy when, as she muttered in her drowsiness, "de sun bodderin' me".

Another Clairee quote comes to mind, "the only thing that separates us from the animals is our ability to accessorize".

And criticize, I suppose, Clairee.

This post is for you, Yo Yo. It is essential to the survival of our species that we had down knowledge through the generations. Wanted you to know I am working hard at it.