IT'S PONY PENNING TIME!
Most people have never heard of Virginia's Eastern Shore. In fact Shore residents, including myself, love checking maps to see if we are even included; more often than not maps of Virginia leave off our 75 mile long stretch of peninsula. But almost eveyone is familiar with Chincoteague Island(pronounced 'Shinkoteege'), the setting for the famous children's book and movie "Misty of Chincoteague". Chincoteague and it's neighboring island Assateague (yes, ASS...it's a native-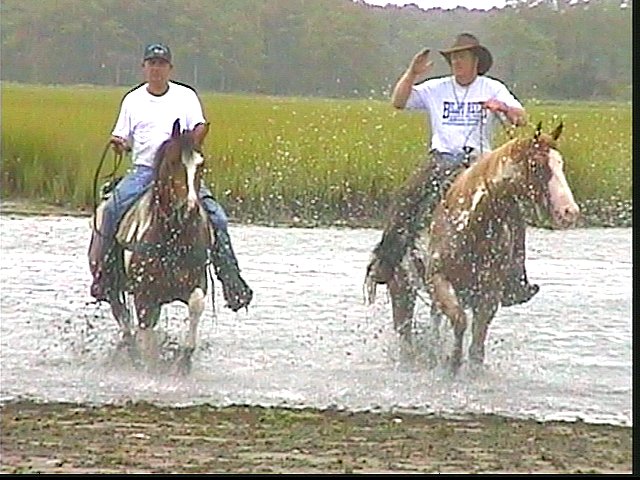 American word) are inhabited by wild ponies (lots of interesting theories about how they got here) that each year are herded and auctioned off to ensure proper care and maintenance of the ponies. The proceeds raise money for the Chincoteague Volunteer Fire Department. The Pony Penning occurs on the Wednesday of the Chincoteague Carnival (I told you the carnivals are essential to Eastern Shore summers), and involves a spectacular 10 mile swim from Assateague to Chincoteague during the slack tide.
The ponies are herded by "Saltwater Cowboys"; to be named one is a true honor. For more information about Pony Penning visit http://www.chincoteague.com/pony/ponies.html .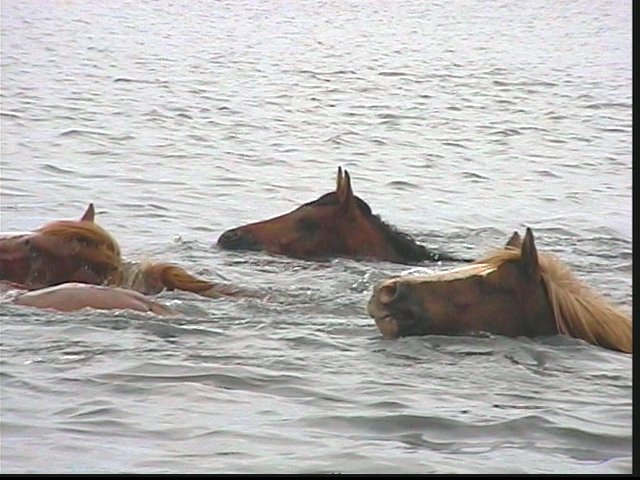 I have never attended Pony Penning. It's not that I don't want to; I'm dying to see this incredible, beautiful sight for myself. I have always either been working full-time or, now, I have small children to care for. The other problem is it's crowded. Chincoteague is "full to the gills" during this week every summer; my friend who lives there has regaled me with horror stories about Pony Penning crowds. She says the best way to witness the event is by boat. So unless someone invites me along on their boat trip, we'll save that for when we actually own a boat. Can't wait! Anyone interested in a Pony Penning visit next year...?